For most parents, dressing their newborn baby includes thinking about whether they'll be too hot or too cold, whether the clothing is easy to put on (think zippers, not poppers), and whether it's made from a material that can withstand a bit of reflux.
Celebrities have a lot more to contemplate, though, with chats about branding starting long before the weaning process – and brand deals happening even from conception.
More recently however, some celebrities seem to be shaping their children's actual image, with famous names including Kim Kardashian, Beyoncé and Serena Williams enlisting professional stylists to dress their children. Porridge stains are out, designer logos are in.
"Celebrities have been very aware for a while that their kids can almost be an extension of their brand," says entertainment writer Katie Rosseinsky. "A lot of celebrities are probably savvy to the fact that the parenting market is a huge commercial opportunity and that well-turned-out kids can be the best advertiser for a potential childrenswear or lifestyle brand."
In February, Rihanna made headlines worldwide when it was revealed her baby son had his own personal stylist for a shoot with British Vogue – notable because he was wearing only a nappy in most of the shots.
Last week, Naomi Campbell announced the arrival of her second child on Instagram with a picture of her son dressed in a white sleepsuit and matching hat. In the caption? A credit to the fashion stylist Rodney Burns.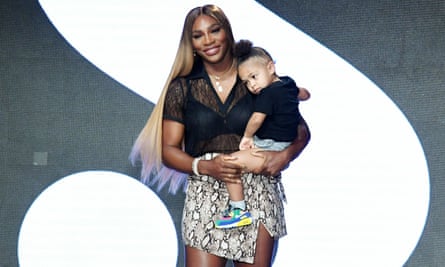 For Hollywood's Gen Alpha (those born between 2010 and 2025), a life on the front row and red carpet is normalized and almost mandatory, judging by the number of A-lister babies now shoved rather than shrouded from the spotlight. These are children embodying the term "nepo baby", even if as actual babies they are unaware of its existence.
North West, Kim Kardashian and Kanye West's 10-year-old daughter, has her own TikTok account, where she posts videos of herself dancing and doing her skincare routine (using her mum's own branded line, naturally).
In real life, the brand optics are turned up even higher. In July 2022, Kim Kardashian and North sat with Vogue editor Anna Wintour at the Jean Paul Gaultier haute couture show in Paris. Kim, whose longtime stylist is Danielle Levi, wore a pinstriped dress and North was in a complementary version, both specially created by the show's guest designer Olivier Rousteing.
Many of these stylists find themselves acquiring a new client when their celebrity clients welcome a baby. It was Serena Williams's stylist, Kesha McLeod, who started styling the tennis champion's months-old daughter Olympia in 2017, for her parents' wedding. Since then, mother and daughter have appeared wearing similar clothing in advertisements for the Super Bowl and Stuart Weitzman shoes. For the King Richard film premiere in 2021, McLeod dressed them in matching black catsuits from the British-based designer David Koma. A year later, for Williams's final tournament, Nike created matching sparkling outfits for them. Rousteing, who helms the French fashion house Balmain, also created matching looks for the duo for a holiday in Paris.
Elsewhere, Harper, the 11-year-old daughter of David and Victoria Beckham, regularly wears bespoke versions of her mother's own ready-to-wear line to sit front row at her biannual fashion shows.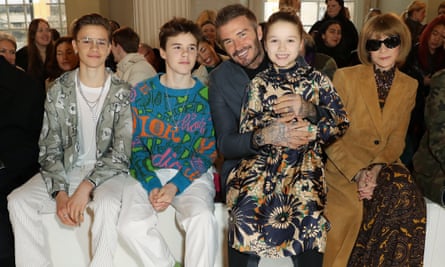 In Hollywood, this kind of mini-me dressing is guaranteed clickbait. Designers are keen to oblige, knowing it will garner endless press coverage and potentially a viral social media moment – ​​ultimately leading to more sales and brand awareness.
"If kids are a key part of a famous person's brand, it makes sense that they're thinking about how those kids are perceived, or even preparing them for a similar career in the spotlight," said Rosseinsky.
Sometimes this means going as far as getting their child their own dedicated stylist. In an interview with WWD in 2019, Beyoncé's former assistant, Manuel Mendez, said he had turned shopping for the singer's first child into a full-time styling job.
He planned as many as 90 outfits at a time for the then seven-year-old Blue Ivy, and later became responsible for dressing his twin siblings.
Meanwhile, the now eleven-year-old Blue is taking part in her mum's global tour, dancing alongside the professionals in mini versions of Beyoncé's looks.
Kylie Jenner and her five-year-old daughter Stormi (another client Mendez lists on his website) regularly wear complementary outfits by designers including Marine Serre, Mugler and Balmain.
Such looks inevitably end up on social media, where – says Rosseinsky – "an emphasis on more candid photos and videos, has only opened up celebrities' domestic lives even more and, for better or worse, put their children further into the spotlight".
It's a somewhat problematic trend. There's a fine line between a cute moment for social media and turning a child into a commercial entity. And while they may not verbally endorse a brand, the lines are very much blurred for these children. What is clear, though, is that the rise of the baby stylist shows that the adage "let kids be kids" does not apply to Hollywood.
To read the complete version of this newsletter – complete with this week's trending topics in The Measure and your wardrobe dilemmas solved – subscribe to receive a Fashion Statement in your inbox every Thursday.