Haddish is a talented actress who has been awarded the Cannes Film Festival, opening at the box office in the number one spot, all while working with some of the biggest names in the entertainment industry. With such accomplishments and stellar career, it is easy to lose memory of the fact that Tiffany had very humble beginnings. Moreover, it's these beginnings that have now brought about the Tiffany Haddish She Ready Foundation. An amazing entity working tirelessly to change the lives of children within the foster care system.
What inspired Tiffany Haddish to be apart of such a challenging, yet rewarding project? The answer is simple… because Tiffany was such a child. She understands.
Yes, Haddish is a former foster care youth. Moreover, growing up in the system is not easy and Tiffany will be the first one to confirm that for you. However, her resilience, determination and always gracious as well as positive disposition; got her through it all and on to bigger and greater things.
Now, Tiffany wishes to help other children foster to do the same. She is utilizing her own time, resources and experience to help these children not feel alone or that they cannot achieve success. She knows that they CAN do whatever they dream; because she is doing it and fulfilling all of her right now!
Furthermore, we caught up with Tiffany Haddish at the She Ready Foundation 1st annuals "Prom Gala — A Night Under the Stars!" Check it out below!
Tiffany Haddish She Ready Foundation- Changing the Lives of Foster Care Youths!
Got Prom? Well, this charitable event caters to foster youth impacted by the foster care system. With the event proceeds going towards: luggage, scholarships, paid summer internships, tutoring and other opportunities.
This monumental yearly gathering will provide the prom experience for celebrities and public figures who were unable to participate in their own during the pinnacle of their teen wonder years. All while supporting and making an impact for a meaningful cause. this year's She Ready Foundation's "Prom Gala — A Night Under the Stars" is executive produced by dr. Gordon and Casey Thomas, associate produced by Allayah Beamon and Curtisha Thomas in collaboration with She Ready Foundation board members, and event design by Sparkle Clark.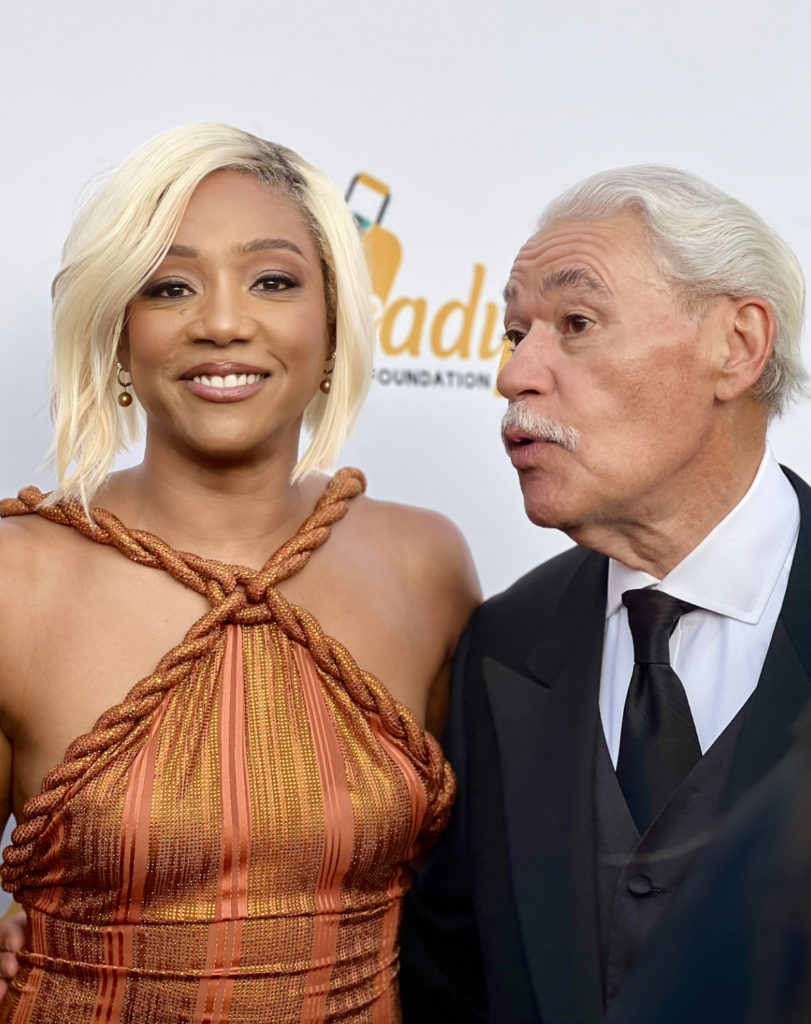 Foster Care Awareness Month: Tiffany Haddish Prom Gala Helping Children with She Ready Foundation
Tiffany Haddish knows all too well what it's like to move from home to home in the middle of the night with all of her belongings packed in garbage bags feeling like the world has forgotten about her. That's why she created the She Ready Foundation to empower, support and encourage children living in the foster care system, serving as the voice of foster children suffering in silence.


Adapting the belief of its' founder that, "Every child who is removed from their parents deserves to have a suitcase, a safe place to lay their head, and a platform to follow their dreams," She Ready Foundation aspires to help make this happen through collaborative partnerships.

**Want Even More Beauty, Lifestyle, Hair, Fashion as well as Celebrity Style Sighting News, Insights as well as Trends? Well Honey do we have something special for you! Slide on over to our TikTok or Inspo filled Pinterest! Click HERE**
Thoughts on Tiffany Haddish She Ready Foundation- Her Prom Gala Changing the Lives of Foster Care Youths!? Well let's connect then! We're always around and love to hear from you. Therefore, join the discussion and talk all things 1966 Magazine; fashion as well as celebrity style sighting related to us by dropping a comment like its hot down low. Or also hit us up on our TikTok, Instagram (1966mag); Tumblr, Pinterest or tweet us @1966magazine.