Jakarta
–
As a celebrity, Raline Shah has many clothes to support her appearance, be it for shooting or attending various events. Having lots of clothes to support her daily life, Raline revealed how to not feel difficult when she was going to store clothes that had piled up.
This woman who was born on March 4, 1985 admitted that when her clothes were piled up she immediately made them giveaway. He will also be selling his collection through a garage sale at his coffee shop.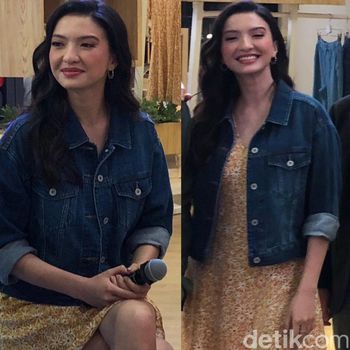 Raline Shah's style when wearing a denim jacket combined with a summer dress. Photo: Gresnia/Wolipop.
"I have coffee shop His name is Kisaku. Every weekend there is a garage sale, there are my clothes, there are clothes from influencers and other celebrity colleagues. If you want to see the clothes, usually on weekends, Saturday morning, usually before the shop opens until half past 11," said Raline Shah during the Collection press conference. LifeWear The latest Uniqlo LifeWear Colors Spring/Summer 2023 at Grand Indonesia, Jakarta.
Special collection luxury or luxury items that she rarely uses, Raline will usually sell through certain sites.
"I also sell clothes on one of the sites luxury in the Motherland. One platform for luxury items being resold. Because if we buy luxury items Yes, it should be there," he explained.
This woman of Malay and Pakistani descent gives advice for you to choose environmentally friendly clothing materials. According to him in this way can help preserve nature.
"During the winter I rarely appear glam, winter holidays usually hiking and mountaineering and truly efficient and optimal clothing. The problem is that many clothes are made of chemicals, which creates waste and pollution. We as individuals must have awareness to reuse And recycle our clothes. That's why I always recommend that if you want to buy clothes made of natural fiber, there is linen, cotton and others," said Raline Shah.
Puteri Indonesia 2008 representing North Sumatra admits that her hobby is traveling and enjoying nature. When doing her hobby, Raline chooses clothes with classic and feminine silhouettes.
"So for me styles it must be everyday wear. It's not just when there's a minor event, I think we have a collection that we can mix and match with anything," he added.
He also divulged one of the fashion items that represent his daily clothing style.
"One of my favorite items is a denim jacket, I think it can be combined with a summer dress like the one I'm wearing now to Bali and it can also be more masculine with denim, pants and black pants. A white shirt can work too. So for me I like denim jackets the most, but more than that the tops are made of cotton breathable What can be used for the fasting month, right? There's a long sleeved top, neat and nice. I like conservative but still chic," concluded Raline Shah.
(gaf/eny)