The preferred medium of the fashion journalist Michael Roberts was Canson art paper, which he scissored freehand into crisp-cut collages, or snipped into minute dots to reassemble into mosaics, for magazine covers or book illustrations. His art, bit by bit putting it together, reflected his life in fashion. He wrote about it, commissioned unexpected others to do so, photographed for media and ads, and charmed cranky legendary lensmen into snapping for him. He could source the clothes, choose the crazy locale, stage the shoot's story, and write a witty critique of the enterprise. He was also always the most elegant person involved, effortlessly cool.
Roberts, who has died aged 75, never bothered with a résumé, since every new role or venture seemed to just develop, but they totted up to a serious career. He was a writer for the Sunday Times in the 1970s, when the new couture catwalk drama and heightened designer celebrity demanded a fashion voice that was both theater critic and gossip columnist. Then from 1979 he was the art and style director of Tatler magazine, when the editor, Tina Brown, transformed it from a country house title into the shiniest glossy – he and he both believed that fashion in print was a money-based transaction, here today and gone tomorrow, where style was an attitude, a behavior, yet permanent. They were mickey-takers, out for mischief. Roberts could persuade even an institution like Eton college to cooperate in its own mockery, though his best joke, for a cover, was to dress, style and photograph – complete to a flash of doubt in his eyes – Vivienne Westwood impersonating Margaret Thatcher in 1989 , towards the end of her reign. An inspired caricaturist, he could similarly make over the designer Rifat Ozbek into the dragon empress editor Diana Vreeland, and a drag queen into Dusty Springfield. The fake could transmute to the real through style.
In his light, droll voice, Roberts would tell you that the dull mechanics of fashion were no more interesting than car maintenance, and kept his eye on a wider visual world. He might go to a garment city in its fashion week and not attend a single show, since the visual future was more evident on its streets, or turn up at a strip-mall event in an emerging-market country, and write, truthfully but not cruelly, about its hopes and pretensions. He never lost his openness to what he saw, or his subversive reactions towards what became the international fashion mega-industrial complex.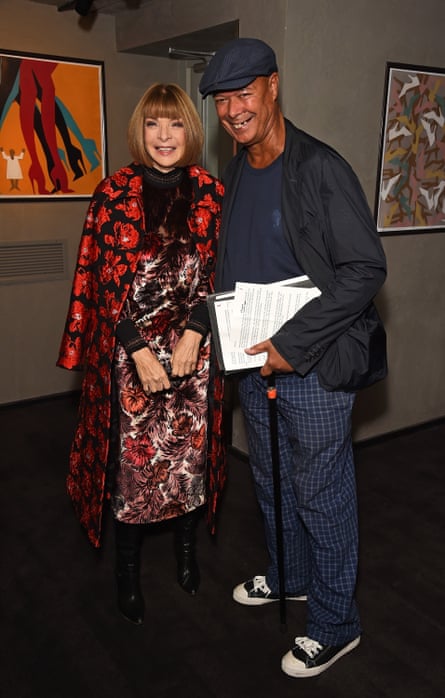 Roberts attributed this impish approach to his lifetime outsider status. What he was not frank and funny about were his origins, admitting only (with variations) to being born in Aylesbury, Buckinghamshire, his mother English, and his father, who died when he was a child, from St Lucia; being mixed race made for a miserable childhood in tough boarding schools. The way out was High Wycombe College of Art, where he swapped from fine art to graphics to fashion. He won an ad agency illustration competition, for which the prize was a trip to New York. There he met Andy Warhol and the photographer Richard Avedon, and had drawings published in Women's Wear Daily.
Back in London, he was noticed by Janey Ironside, a professor of fashion at the Royal College of Art, while in 1969 Molly Parkin, the rapscallion fashion editor of the Sunday Times, employed him as assistant. He filled in so freshly when a regular writer fell ill that he was awarded a weekly entry and expanded from there. Roberts' notions were cheeky and unclassifiable – sending the war photographer Don McCullin to shoot Paris collections – right for a fracturing fashion era, half reviving couture, half punk. The editor of the Sunday Times, Harold Evans, introduced him to Brown, and Roberts was relieved to leave his snarky commentary slot, a jolt to read but dreamy to write, for Tatler, when he went there. Five years later she brought him to a US audience as fashion director of Vanity Fair after she was appointed editor: their VF collaborations lacked Tatler's satire but gained American sass and pizzazz.
Roberts was at home anywhere, working for most national editions of Vogue, and other magazines, besides VF. As well as his unstoppable flow of ideas, he knew how to do things, usually self-taught (although he had learned at college how to ease in the head of a sleeve to the shoulder), and often had to in order to achieve the standard he required. That was why he took up photography, first for fashion and ads, then for portraits and people, drawing on advice directly from his hero Irving Penn: "There is always enough light" and "You don't need more than two rolls of film. ". Roberts began to direct film, too, with the MTV award-winning music video Limbo (1987) for Bryan Ferry, handmaking its graphics in homage to the cabaret artist Josephine Baker.
Brown moved to the New Yorker in 1997, and commanded Roberts to direct its regular fashion editions: since it seldom descends to camerawork, he papercut 22 covers plus illustrated features before returning to Vanity Fair in 2006 for a last grand round of fashion photography. As a future predictor he saw that even as magazines fattened extremely before the 2008 crash, mass fashion, selfies and internet image transmission would soon be their downfall.
Roberts was gone before the glossies dwindled. His first paper-collage illustrated book, The Jungle ABC, nominally for children, was published in 1998, and he drew, wrote, contributed to and art-directed others over the next 20 years, including the memoir of the Vogue creative director Grace Coddington and two children's books about the adventures of an orangutan, GingerNutz, which he based on the red-haired Grace.
He directed a documentary, Manolo: The Boy Who Made Shoes for Lizards (2017), about his longtime friend and fellow troublemaker Manolo Blahnik, and published two volumes of photographs of Sicily. In 2022 he was appointed CBE.
After living light with little baggage in London, Paris, New York and Rio de Janeiro, he finally settled in Sicily, which he loved as a place where classical Rome, Italy, the Middle East and north Africa all left traces, especially mosaics.