Leicester's garment makers have said they are in crisis as a growing number of fast-fashion brands are forcing through discounts, making last-minute cancellations and imposing financial penalties for what suppliers claim are tiny errors.
In the east Midlands city – where manufacturers make clothes for a range of brands including Boohoo, Misguided and Frasers Group, the owner of Sports Direct and the online specialist Missguided – hundreds of garment businesses have shut in recent years, local organizations say, and suppliers warn that more are likely to follow.
The non-profit cooperative Labor Behind the Label estimated there were 1,000 factories in Leicester in 2020 and that number has now halved.
Factories say their profits are being squeezed by punitive practices, last-minute cancellations and unexpected changes to orders as retailers attempt to rein in costs amid disappointing sales.
These practices are leading to waste, with hundreds of unwanted items being sold off in bulk for as little as 20p each in order to clear space in their workshops, say suppliers.
Labor Behind the Label claimed suppliers were often treated with "disdain and disrespect". Suppliers have told the group about demands by Boohoo Group for discounts of between 10% and 20% on the agreed price for delivered and undelivered orders.
Usually when a brand places an order, a price is agreed upon and the manufacturer is paid after the goods are delivered. When conditions in the market are tough, retailers attempt to protect their profits by demanding retrospective discounts from the suppliers.
A payment slip from May, issued by Boohoo to a Leicester supplier and shown to the Guardian, suggested the company imposed a 10% reduction on the price of an order.
The supplier, who asked to remain anonymous, said the order had taken several months to produce and had already been delivered when the reduction was imposed.
The supplier claimed it was not consulted or given an explanation for the cut, and that it would have to cover the reduction, so that "instead of making money" it was "losing it".
"We will now have problems paying our fabric suppliers." The supplier said its business, which has been operating for two decades in Leicester, may have to close and that production had been paused while it was deciding what to do next. "If they don't come back with any solution, then many [others will] feel compelled to leave the industry."
Dominique Muller, the policy director at Labor Behind the Label, said she had spoken to suppliers who said they faced a 20% cut in May on items made for Boohoo.
In February, Frasers Group was reported by the trade title Drapers to have requested a 10% discount on outstanding payments and a 20% discount on ordered goods from suppliers for spring/summer 2023. Frasers Group has been pursuing comments.
Boohoo, along with a number of other online fast-fashion brands, has been unable to sustain the surge in trading achieved during the pandemic when high street stores were closed. Its revenues fell 11% to £1.8bn in the year to 28 February, including a 9% fall in the UK.
Boohoo declined to comment on allegations that he had requested discounts. A spokesperson said the company wanted a "mutually beneficial relationship" with suppliers, that it had absorbed the impact of inflation last year and that it was now looking for prices to come down.
The spokesperson said: "Deflation is now occurring throughout our supply chain and we are on the front foot across our cost base. Capturing deflation in a timely manner will enable us to continue to deliver for customers by investing in reduced prices."
They added that Boohoo had an "industry standard" supplier code of conduct that must be adhered to.
The latest pressure on garment makers comes after Boohoo cut ties in 2021 with hundreds of UK factories after a review uncovered "endemic" problems related to working conditions within its Leicester supply chain.
Manufacturers in the city had a further blow when Missguided, which was a leading buyer in the region, collapsed into administration last year. Missguided was later bought by Mike Ashley's Frasers Group, but it is not clear how many UK factories it continues to work with.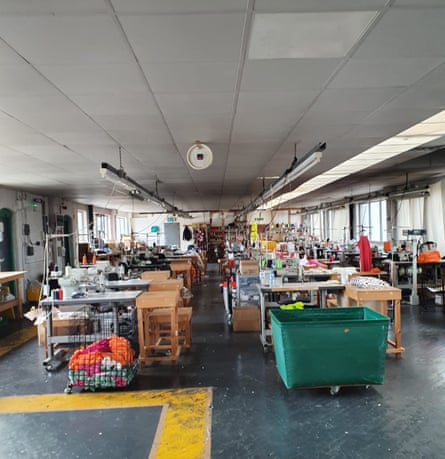 The squeeze on suppliers is affecting garment workers in the region, particularly women. Kaenat Issufo, who works with Labour Behind the Label, said many were struggling to find jobs as factories shut. "A lot of women have said this to me, and they don't travel elsewhere for work because often there is a language barrier. They also feel safer working within the community.
Suppliers also allege they are being penalised by brands for small errors in packaging, such as a barcode not scanning on a box that has been delivered or any damage at all in transportation of goods. "If I deliver 1,000 garments and [they] say they only got 800 and you cannot prove otherwise, then we get a £ 200 fine," one supplier said.
"So, if we make 300 garments and earn £50, but there is a problem with the box or the barcode, then we face a £200 penalty. These are small, small issues and cause huge problems for our business."
Manufacturers also claim orders are often canceled at the last minute because of changing buying habits. "So, you will get an email and it says: 'This style is not working so we have to cancel it.' Then the items just stay here with us and we are stuck with the clothes we have to clear, so we sell them in bulk for 20p or 50p just so we can make space," said one.
Saeed Khilji, the chair of the Textile Manufacturers Association of Leicester, said these practices were widespread among fast-fashion companies working in the area.
"Manufacturers are squeezed and in a tricky situation. They need to make a profit to run their business," he said.
Khilji said a number of factories had stopped work during March and May after discounts were imposed. He predicted a further 15 to 20 would follow.
Muller said: "Large fashion brands continue to treat suppliers and, ultimately, their workers with disdain and disrespect. Imposing unilateral discounts or order reductions when goods have already been made or fabric bought is abusive, bullying behavior by the brands. Many of these companies have codes of conduct making pretty promises of ethical purchasing practices but the reality is very different.
"The government is simply allowing fashion brands to get away with treating British workers and British manufacturing like a throwaway resource."
A spokesperson for Boohoo said: "Like many businesses, we faced significant cost inflation across our operations but absorbed much of this to deliver for our customers and protect our supplier relationships. Deflation is now occurring throughout our supply chain and we are on the front foot across our cost base. Capturing deflation in a timely manner will enable us to continue to deliver for customers by investing in reduced prices. We have a responsibility to all of our stakeholders to operate efficiently."
A government spokesperson said: "The UK government has convened a wide group of stakeholders consisting of retailers, manufacturers and non-profit organizations to work with the Gangmasters and Labor Abuse Authority to address poor working, pay, and purchasing practices in UK supply chains. We are continuing to review this issue and consider options to drive up standards across the sector."