"I cannot stand by while the planet is slowly coated in a thin, oily film of plastic to be inherited by our children and generations to come." Such a declaration would normally be delivered by a Greta Thunberg-type but, on this occasion, its emissary was the fashion designer Tom Ford wearing his trademark tailored suit and thick-rimmed glasses.
He said it to the crowd at the Green Carpet Fashion awards (GCFA) in Los Angeles on March 9 before announcing the winners of the plastic innovation prize to the unusual mix of stars, activists and sustainable fashion personalities in the room.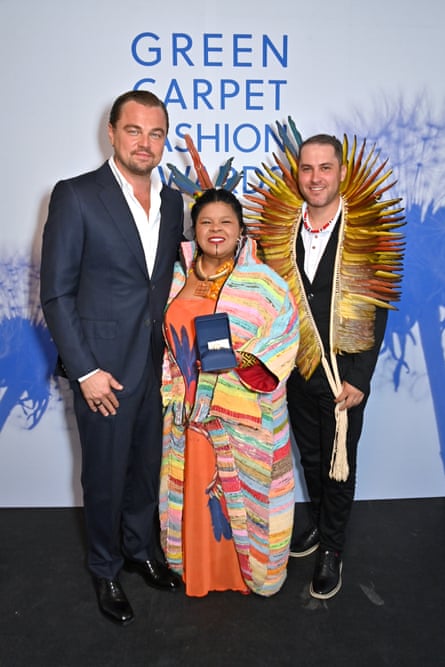 The award is a $1.2m combined cash and investment prize to support the winners to scale their solutions to replace traditional thin-film plastics, which make up to 46% of all plastic waste and cannot be recycled. They are prolific in the fashion industry as most new garments come wrapped in clear plastic. Ford estimates 180bn bags are used each year.
It was the first award presented and set the tone for a ceremony focused on a future for the fashion industry centered in nature-based solutions.
Adopting a role outside acting, as the UN messenger of peace for climate change, Leonardo DiCaprio, presented Sônia Guajajara with the healer award. Brazil's minister of Indigenous people was honored for her work protecting and regenerating Earth's ecosystems.
In her acceptance speech, while wearing a beautiful, multi-colored robe and headdress, Guajajara said the "Indigenous struggle is a humanitarian struggle, by defending Indigenous territories, we protect the water that you breathe and the water you drink here on this side of the world".
Land stewardship was also centered when Gabriela Hearst accepted an award for being the industry's sage. She described being raised on a ranch in South America, where they "worked the land in pre-industrial ways".
The creative director of Chloe then outlined a four-part plan to move the fashion industry towards climate success. Starting with geopolitical change to prevent the planet from being commoditised, an infusion in clean energy to get the world off fossil fuels, the empowerment of women in the workplace and finally a shift in consciousness.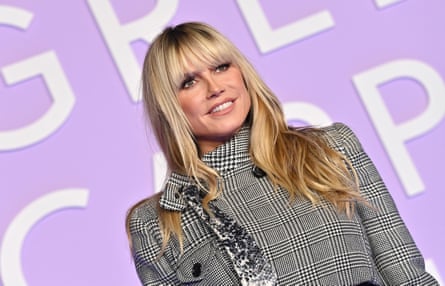 The GCFA was founded by Livia Firth in 2017 and is usually held in Milan. A sustainable fashion consultant behind the firm Eco-Age, Firth began to draw attention to fashion's sustainability issues in 2010 by wearing ethical designers on the red carpet during her then husband Colin Firth's successful Oscar's campaign for The King's Speech.
The crowd was a reflection of her A-list network and consisted of Cate Blanchett, Quannah Chasinghorse, Heidi Klum, Amber Valletta and Naomi Campbell. With other A-list stars Jerry Hall, Georgia May Jagger and Annie Lennox presenting awards and the actress Alicia Silverstone and British Vogue editor Edward Enninful accepted them.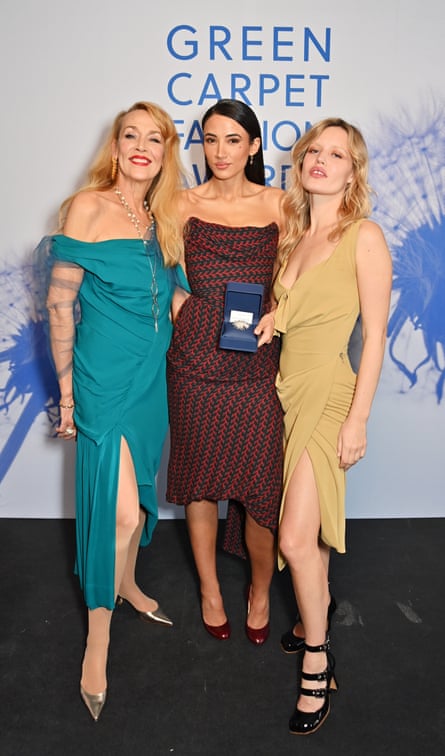 Towards the end of the evening, plastic once again became the focus with plant-based designers except for winning the Rebel award. In a reference to the widespread use of synthetic materials like polyester – which make up over 60% of global fiber – Eric Liedtke, a co-founder of Unless, said: "When you take a look at fashion, a real hard look at fashion , its plastic, its petrochemicals. Those are forever materials. They never go away."
Except for only natural materials, threads and buttons to create a relatively simple streetwear line, emphasizing that their garments uses will biodegrade when buried in soil. Their innovations include an entirely plastic-free, plant-based biodegradable sneaker – the result of a partnership with Natural Fiber Welding.
Less than three months since she died, it would have been impossible for a sustainable fashion awards ceremony to not mention Vivienne Westwood, who is widely considered the original eco-fashion warrior. The messenger award was presented to her husband Andreas Kronthaler and the Vivienne Foundation, with her granddaughter Cora Corré taking the stage to accept it on his behalf.
In an English accent more polished than her grandmother's but wearing a trademark Westwood strapless tartan dress, Corré brought Westwood's defiant energy to the crowd. She called out the proposed UK asylum bill for violating the European Convention on Human Rights by denying people fleeing war, persecution or famine the right to seek asylum.
It was a welcome reminder as the evening drew to a close that real change is rarely made without discomfort, bravery and passion.